This project is funded by the Heritage Council (Wildlife Grant 2008 and 2009, Heritage Grant 2010)
The Waterford Breeding Bird Atlas 2006-2011
What is it?
The Waterford Breeding Bird Atlas is a project to map, at the level of 2-km x 2-km tetrads, the occurrence and status of breeding and summering birds throughout County Waterford. During fieldwork in April-July of the years 2006-2009, at least 70% of the c540 tetrads in the county have received 2 or more hours of timed coverage. We aim to increase this to over 100% by the end of July 2011 (with 4 hours coverage in as many tetrads as possible). Results will be published as detailed maps both online and in print form, providing the most thorough documentation to date of Waterford's breeding avifauna. This will provide a baseline for assessment of future changes and allow documentation of important breeding habitats in the county. See below for further details of coverage to date. Click how to help for further information on methods and how to get involved, or click www.birdatlas.net for full details of the national atlas which Waterford fieldwork will be part of. See also a list of frequently-asked questions, and the Winter Atlas page for fuller details of the winter survey. Latest update 22 November 2010. See species maps & 10-km summaries
Download 2010 pdf report (added Dec 2010) 2009 report (added Nov 2009) 2008 report national newsletter (August 2009) methods summary survey forms
Coverage update: 2010 season
Fieldwork for the 5th season of the Waterford Atlas (and 2nd breeding season of the national atlas) is now completed. Known coverage in 2010 is mapped below. At least 109 tetrads (20% of county total) have had an hour or more of timed coverage so far this season, and 332 tetrads (61%) have contributed some records.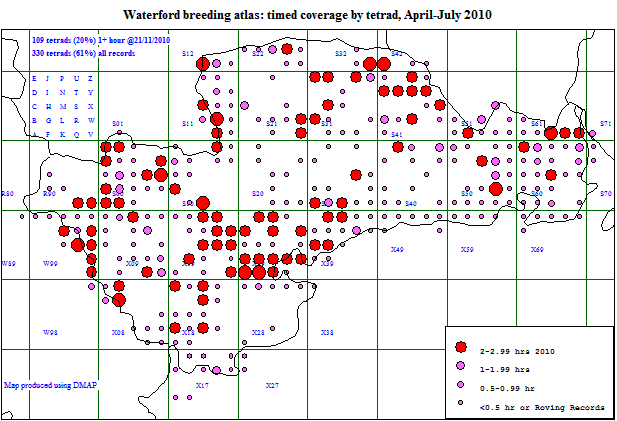 Coverage update: 2006-2010 seasons combined
In total over the first 5 seasons of the Breeding Atlas at least 486 tetrads (90% of the county total) have had an hour or more of timed coverage. Of these, at least 463 tetrads (86%) have had 2+ hours, 177 (33%) 3+ hours and 77 (14%) 4+ hours of coverage. Records have been collected from at least 535 tetrads (99%) overall. Total timed coverage achieved to date has been at least 1425 hours (equivalent to about 360 half-days), additional to further (unquantified) fieldwork contributing Roving Records. See 10-km summaries for list of species and their maximum breeding status during 2008 or 2009 (Waterford Atlas data also contributing to national atlas coverage).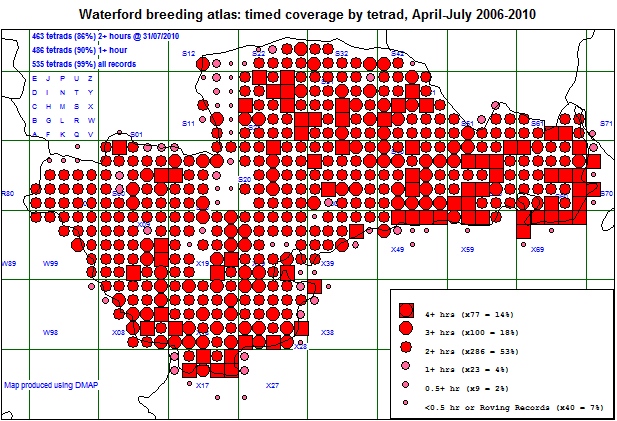 Tetrad priorities & allocations for the coming seasons
The maps below show three categories of 'priority' tetrads for timed coverage (Timed Tetrad Visits) in the final breeding seasons (2011) and indicate those which have been allocated, so far, to specific observers for timed coverage (TTVs). In addition, Roving Records are needed from all tetrads in the county - particularly confirmed breeding of any species, and records of scarcer or nocturnal species. Updated 1 October 2010.
Priority 1: Full tetrads which have not yet had at least 2 hours of timed coverage in 2006-10.
11 tetrads still available (open circles below) + 32 allocated: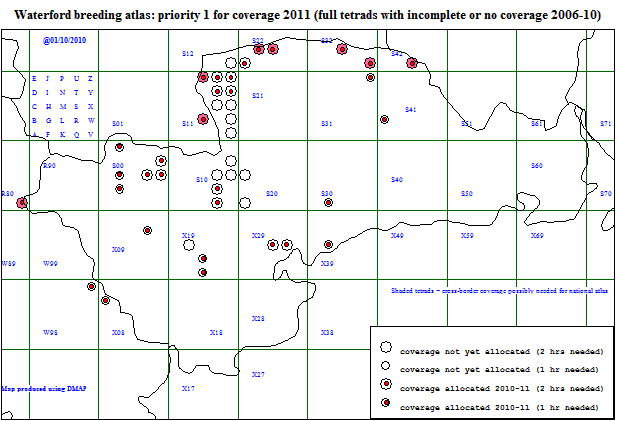 Priority 2: Full tetrads that had 2+ hours coverage in 2006-07, but not in 2008-10, for which further coverage during the National atlas period (2008-11) will help assess changes since 1988-91, when these tetrads were also covered. (Note: tetrads with at least 4 hours of coverage since 2006 are excluded.)
27 tetrads still available (open squares below) + 8 allocated: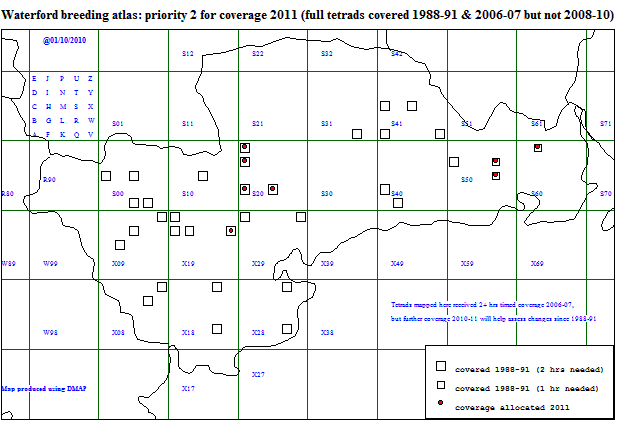 Priority 3: Partial tetrads which had no coverage, or < 1 hr of coverage, in 2006-10; either coastal (midpoint below HWM) or border 'fragments' (with <15% of the area in Co Waterford). These partial tetrads will require at least 1 hour of timed coverage for the Waterford atlas, but will probably not contribute timed coverage to the National atlas (data will be submitted to latter as Roving Records).
9 tetrads still available (full TTVs not required) + 3 allocated: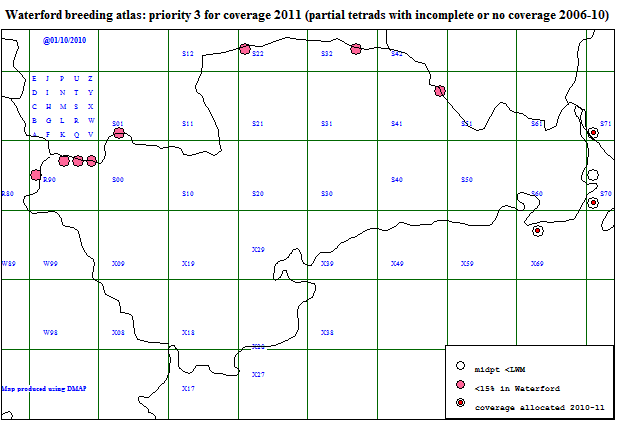 Coverage: nocturnal and crepuscular species 2006-2009
The map below shows tetrads with records of Water Rail, Woodcock, Snipe or Long-eared Owl, species that often require targeted fieldwork at dusk or nocturnally. Tetrads checked at dusk or nocturnally but without success are also shown. Records of other relevant species are not currently mapped - Barn Owl, Nightjar and Corncrake (to maintain site-confidentiality), or Grasshopper Warbler (many diurnal records and some involve migrants).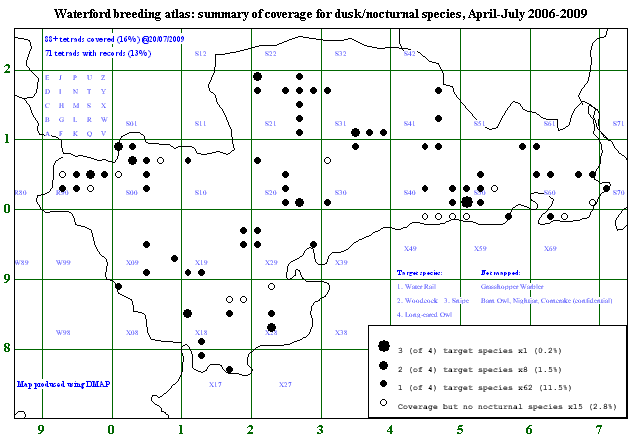 .
Numbers of breeding species: 2008-2010 seasons combined
Numbers of possible, probable or confirmed breeding species per tetrad are mapped below, based on the latest three seasons' results (2006 & 2007 data not added yet). Migrants, non-breeders and species with unspecified breeding status (or recorded as direct fly-overs / flypasts only) are excluded. Updated 22/11/2010.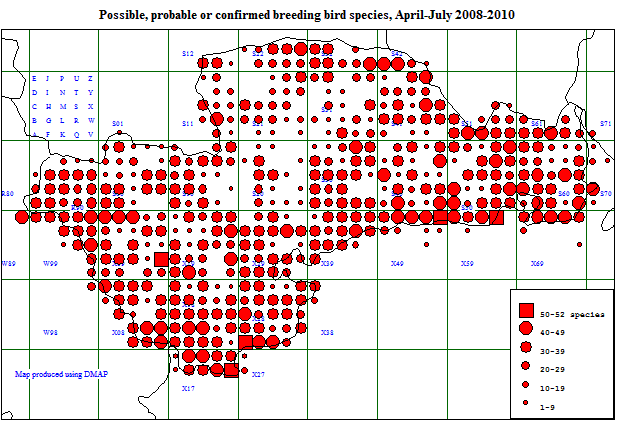 Preliminary species maps
See sample maps below, and click
here
for other maps (updated 22/12/2010). Note 2006 & 2007 records not added to maps yet.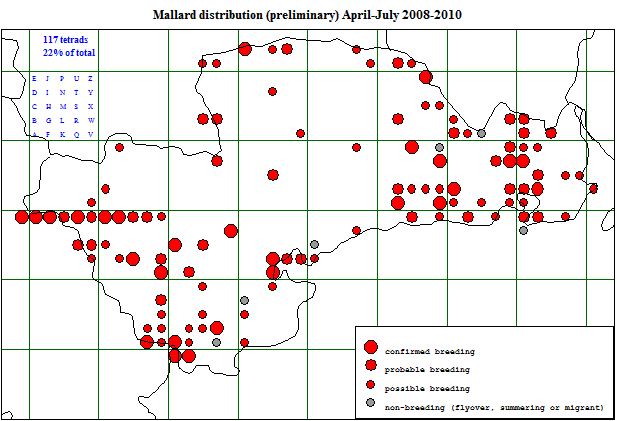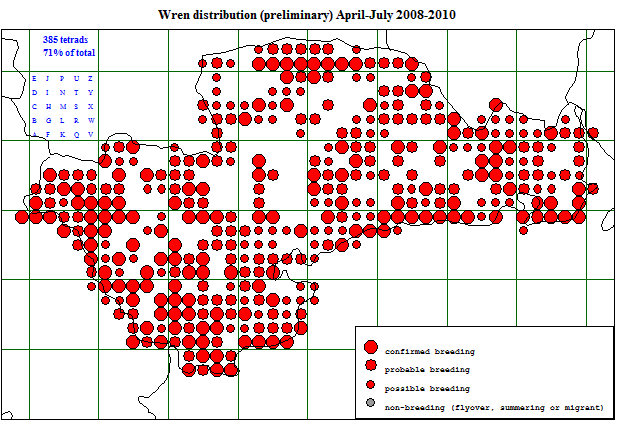 Species richness by 10-km square
The map below (from
www.birdatlas.net
) summarises coverage reported online since 1/4/2008 (excluding migrants and other non-breeders) as a % of the species totals recorded in each square in the previous Breeding Atlas (1988-1991). Red = over 90% of previous total; orange = 75-90%; yellow = 50-74%; white = 1-50%.
Updated 18 Feb 2010.
.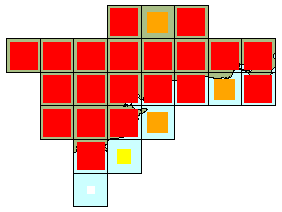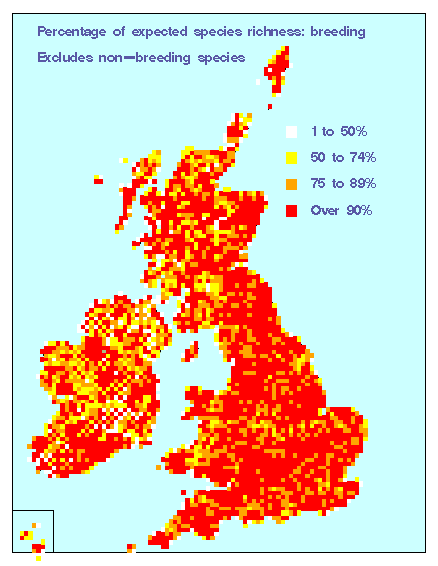 Timed Tetrad Visit allocation: Britain & Ireland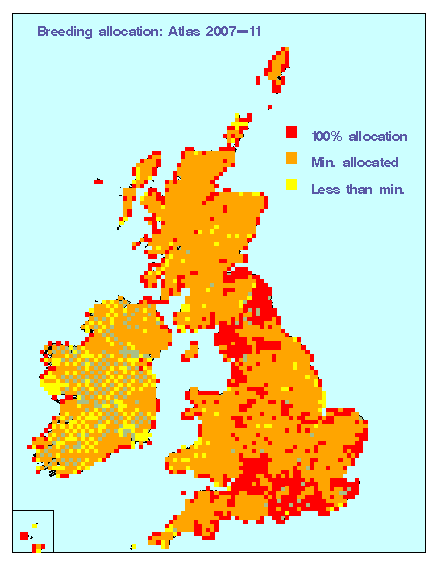 Timed tetrad coverage: Britain & Ireland